Introducing Poetry to Kids
So, you want to read a poem (and now you need to get to know 'em)
Fabulous! It's never too early to read poetry to your little ones. Not only is poetry for young children often entertaining, it can give children the words to describe their feelings. Children see themselves in poetry and feel less alone. Poetry also helps children see the world from the perspective of others, and develop empathy.
Let your child choose (and then they won't snooze)
To begin your poetic journey, we suggest you borrow one of our poetry anthologies. Let your child flip through the pages and point to the poem they would like you to read. By letting them choose, you can help them feel in control and engaged.
Option One: Make it Fun
These books are filled with funny poems that will have your child asking for more.
New Kid on the Block by Jack Prelutsky.  Prelutsky writes humorous poems about topics that our children are truly passionate about, like homework and video games.
If You Were a Chocolate Mustache. J. Patrick Lewis writes rhymes that will have your child giggling.  One of his shortest poems, "Lost Sock," is also my favourite: "Quandary?/Laundry./Try yer/Dryer."
Alligator Pie by Dennis Lee. Kids love these good ol' Canadian poems. Find out what rhymes with Chicoutimi!
Edward Lear's Nonsense Poems are perfect for those who love limericks. We have umpteen versions of Edward Lear's nonsense poems, but my favourite is the edition illustrated by Valorie Fisher.
I've been told that Where the Sidewalk Ends is the book that is most stolen from libraries. As a librarian, I am appalled, but I do appreciate the thieves' taste. Silverstein's iconic poem "Sick" is a favourite of many children. You might recognize the first line: "'I cannot go to school today,' Said little Peggy Ann McKay."
Marilyn Singer has created a unique collection of "reverse" poems in her book Mirror, Mirror. Each poem is based on a fairy tale, and offers a different perspective depending on how it's read. Read Little Red Riding Hood's tale and then read from the bottom up to get the Wolf's side of the story. This style has long been used in Chinese poetry. 
Option Two: Classics for you!
Surprise! Children enjoy listening to classic poetry. One of my family's favourite poetry books was Winter Poems, which includes poetry by Edgar Allan Poe, Robert Frost and William Wordsworth. I especially liked curling up with this book on dark winter nights. Many times I sat down wondering if the kids would scoff and walk away, but something magical happens when you read poetry aloud. 
When you read classic poems to your child, get into the zone and read it like you mean it. I personally find it effective when I channel the spirit of Anne of Green Gables (Megan Follows version) for poetry readings. 
The Road Not Taken by Robert Frost. This is a poem that will stay with your child. Give them these words now, and they will be able to return to them and find inspiration later.
Casey at the Bat, by Ernest Lawrence Thayer, illustrated by Christopher Bing. This edition is enthralling for any baseball fan, young or old. As I read it and carefully examined the drawings, I forgot where I was and became absorbed in the story of Casey and the Mudville Flats. 
Keep a Pocket in Your Poem by J. Patrick Lewis. I love this book! Each two-page spread contains a classic poem on one side and a parody on the opposite page. For example, in parody of Robert Frost's "Stopping by Woods on a Snowy Evening," Lewis writes the very funny "Stopping by Fridge on a Hungry Evening." 
Now that all the seeds are sown, memorize, and write your own!
Remember that poem you proudly recited in elementary school? Give your child the challenge and joy of memorizing a poem with one of our collections of poems to learn by heart.
Poems to Learn by Heart by Caroline Kennedy. An outstanding collection of poems both familiar and new.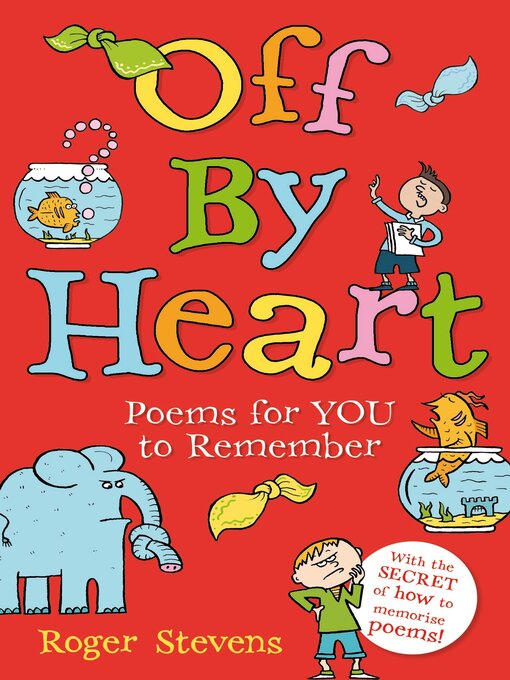 Off by Heart: Poems for YOU to Remember by Roger Stevens
Or, inspire your little one to try writing a poem of their own, with Jack Prelutsky's book "Read a Rhyme, Write a Rhyme." Prelutsky presents three poems on each topic (for example, poems about dogs), and then provides the first sentence of a poem starter, to spark your child's writing.
TPL has got you covered, with all the poets you have lov(er)ed.
On your journey, explore the plethora of children's poetry books in our catalogue.  We have everything from T.S. Eliot's poems that inspired Cats, to Jane Yolen's nature poetry, to novels in verse, like Love That Dog by Sharon Creech.
---
What was your experience with poetry as a child? Can you still recite the poem you memorized in the third grade? Do you fondly remember your grade six unit on haiku?  Tell us about it in the comments.