Helping Young Children Learn Positive Behaviour
Hitting, yelling, throwing tantrums, biting, not eating, etc. These are some behaviours you may be familiar with if you have a young child in your life. While the reasons for challenging behaviours may be complex and hard to simplify, they are sometimes a result of a child not being able to understand their own emotions and feelings or their need to learn self regulation and self control.

According to British Columbia's Health Planning Department (PDF), one strategy in fostering positive behaviours is by establishing clear, consistent, and simple limits. Doing so will "set the stage for a positive atmosphere and maximize opportunities for positive behaviour."
As a children's librarian, these are some of the limits I use when I encounter children in the library:
"In the library we use a quiet voice."
"When we are indoors, we walk."
Using a story to reinforce these ideas could also help your young child change their challenging behaviour, and might help them understand the underlying emotions that might be causing these behaviours. Here are some books that might be useful: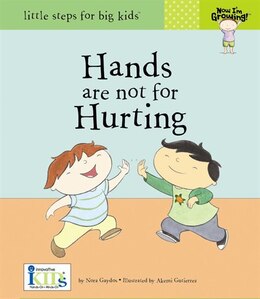 Hands are not for hurting by Nora Gaydos
It's time to start using your words by Lawrence E Shapiro
Voices are not for yelling by Elizabeth Verdick
When I feel jealous by Cornelia Spelman
Cool down and work through anger by Cheri J Meiners
Note: The authors of the above books have many titles of similar content, so please click on their names to explore more titles that may be better suited to your child's behaviour.
Though these types are books can be found in many areas in the children's area of the library, they are often found in the Parenting Collection. The great thing about items from the Parenting Collection is that they usually include a note to parents/caregivers with some tips about how to continue the conversation after reading the story.
And if you still can't find a suitable book to share with your child, speak to the staff at your local library.