If you know me, or if you have spent any time at Cedarbrae branch on a Monday night (Knitters' Drop-In night!), it is no secret that I have a passion for both knitting and the fibre-related arts in general (crochet, weaving, spinning, you name it). Over the past year or so I've had this very librarian-ish need to learn as much as I can about the history and cultural traditions of the craft. I thought I'd share with you some of the more interesting tidbits and resources I've come across.
I'll start with a wonderful recent post from a fellow Toronto blogger (who also happens to run the Wise Daughters craft market) about her great aunts' samplers. It sums up well the emotional connection we have to tradition and handmade heirlooms.
I was perhaps most excited to find out about the ancient art of nålebinding. Nålebinding is a Danish word literally meaning "binding with a needle" or "needle-binding", also spelled naalbinding, nålbinding or naalebinding. In English it is known as "knotless netting," "knotless knitting," or "single needle knitting." It is a predecesor to knitting that was used by the Vikings and employed only one needle. There are very few books available on the subject, but a large list of links can be found here. This is what nålbinding looks like:
Nålebinding techniques were not limited to the Vikings. Many cultures used single-needle tools to make knitted-like fabric, including the Egyptians, who made these funny socks:
Check out the eBook Fashion, Costume, and Culture for more info on textile tradtions from Egyptian times to now.
The Complete History of Costume & Fashion: from Ancient Egypt to the Present Day is another good read on the subject.
Nålebinding is still practiced in parts of Peru. They use it to make bracelets. It used to be used for hats like these before knitting needles were introduced:
Speaking of Peru, I found another great article on the amazing textiles of that country in an issue of Twist Collective magazine. There was also a very richly detailed book on the subject published last year: Folk Art of the Andes by Barbara Mauldin
Marcia Lewadowski's Andean Folk Knits is another great book. It's more strictly patterns, so it's ideal for those just looking for something good to knit.
Did you know that true knitting, meaning the two stick variety, started in Egypt? At least that is where the earliest example has been found, dating to about 1000 CE. Knitty has a good overview of the beginnings of the craft here.
Antique Pattern Library is another amazing recource I recently stumbled across while trying to help a customer find J.P. Coates' filet crochet book on insertions by Anne Champe Orr from 1910 (which is available at the Reference Library, by the way). Antique Pattern Library has hundred of now public domain pattern books available as pdf downloads. My eReader is now full of 'em. Check out the arts and crafts category of our librarian-curated Recommended Websites section of the TPL website for other neat online finds
Speaking of websites, I'm glad I found this great site by Gordon Reid on the history and creation sailors' of ganseys and guernseys in Cornwall, England.

He led me to this book:
Cornish Guernseys & Knit-Frocks by Mary Wright. It's short, but absolute perfection.
I recently borrowed Sylvia Olsen's Working With Wool: A Coast Salish Legacy and the Cowichan Sweater and am quite impressed so far. Rich with historical photographs, this book tells you everything you ever wanted to know about Canada's only traditional type of knitwear, which comes out of the wool-working tradition of the Coast Salish native community in Vancouver.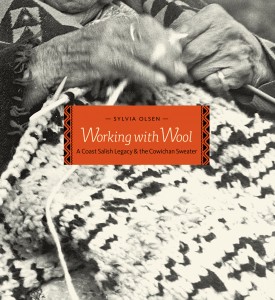 Here is an example of what a Cowichan sweater looks like:
Ms. Olsen has also written a very charming advanced picture book on the subject called Yetsa's Sweater:
Speaking of Canadian traditions, I want to include Marilyn I. Walker's Ontario Heritage Quilts. I know it isn't knitting related, but it's still a handicraft and many knitters quilt and quilters knit. I was excited to find out we even have heritage quilts in Ontario. You might also want to have a look at the York Heritage Quilters Guild.
Speaking of guilds, Toronto also has it's own large and very active Knitting Guild called the Downtown Knit Collective. The concept of guilds are interesting in themselves, dating back to the medieval period when handcrafting industries employed many.
Irish Hands by Sybil Connolly is full of information and beautiful photography. Connolly was (she sadly passed away in 1998) Ireland's grand dame of textiles – she knew her stuff. In addition to lots of information on Aran knits there is lots of information on a wide array of other crafts, from silversmithing to basket making.
Examples of Aran sweaters:
A couple of wonderful tomes that cover knitting history on a worldwide scale include Nicky Epstein's Knitting on Top of the World.
Lela Nargi's Knitting Around the World gives Epstein's work a pretty good run for its money. perhaps fewer patterns than Epstein's, but it makes up for it by having more in-depth historical information.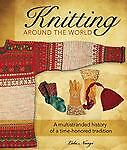 B.T. Batsford Publishing's "Complete Book of Traditional…" series is older, but also worth a look.
Fair Isle Knitting by Sheila McGregor covers the traditional multicoloured knitting techniques of the Fair Isles.
Aran Knitting by Shelagh Hollingworth 
Traditional Knitting by Rae Compton is an overview of traditional knits around the world.
The Complete Book of Traditional Guernsey and Jersey Knitting by Rae Compton goes into great detail about this English sweater style, comprehensively covering traditions across the entire isle.
Scandinavian Knitting by Sheila McGregor discusses motifs unique to this area of the world.
Speaking of Scandinavian knitting, another book I've been coveting is Annemor Sundbø's Norwegian Mittens and Gloves.
There is also this really cute little book by Robin Hansen called Sunny's Mittens. Similar to Yetsa's Sweater, it is a picture books about a girl learning to knit from her grandmother. However in this story, they are making Swedish folk mittens called Lovikka mittens.
A pair of Lovikka mittens:
There aren't just folk mittens, but folk socks too. Nancy Bush's book is considered the best resource on the topic.

A Turkish sock:
A last book I want to show you is Wrapped in Lace: Knitted Heirloom Designs from Around the World by Margaret Stove. The author has really done her research in this one.
Plus, the patterns throughout are jaw-droppingly gorgeous. Consider this New Zealand styled take on Russian Orenburg lace:
And that's a wrap! (Sorry, bad pun).