A Book Where the Main Character is Not Human: Picks for the TPL Reading Challenge 2021
I don't know about you, but I usually need a break from people, and I suppose I'm the same when it comes to books too. I like having a break from reading about people, and usually turn towards other topics instead. Here are some recommendations for a book where the main character is not human that can be used for the TPL Reading Challenge. We talked about this category on May 27 and, if you missed the event, you can watch the replay.
The Travelling Cat Chronicles by Hiro Arikawa
This is the sweet and simple story told from the perspective of a former stray cat, Nana, who goes on a road trip with his human. They travel around Japan, visiting old friends and try to find a new human for Nana. I'm still only part way through this book, but it is so lovely and gentle. 
Other Reading Challenge categories:
– Nalini, Senior Branch Head
Emperors of the Deep by William McKeever
It's a non-fiction book all about sharks. While there are some humans in the book, the sharks are the real star of the show. I never realized how little I know about sharks until I read this book. When reading the book you want to have a connected device nearby. I was constantly pausing my reading to look up images and videos (and I was not disappointed!). This is one of those books that will have you sharing interesting facts with anyone within earshot.
Other Reading Challenge categories:
– Pauline, Librarian
The City We Became by N.K. Jemisin
The characters in The City We Became may look human, but they're not. They're avatars of New York's five boroughs, and they've been pulled into an epic battle for the soul of the newly sentient city itself. Their antagonist, which sometimes looks human, and sometimes looks like an albino Chthulhu, is a kind of alien embodiment of white supremacy. Gripping and original.
Other Reading Challenge categories: 
– Wendy, Digital Content Lead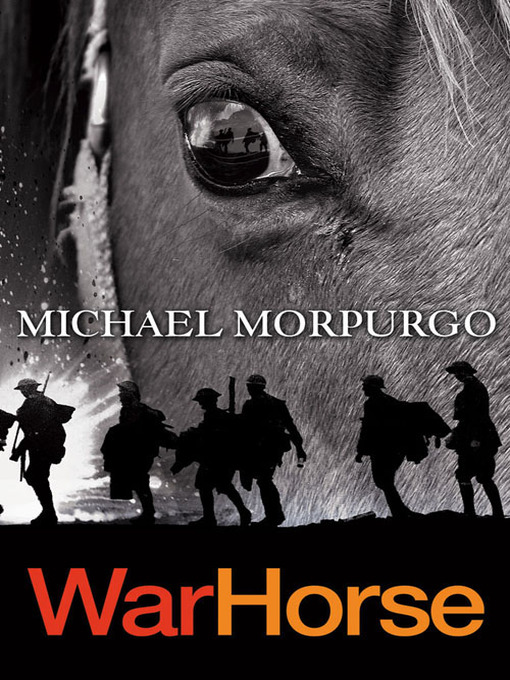 War Horse by Michael Morpurgo
It's a story about a horse, Joey, and the young boy, Albert, who trains him. After they're separated, the story follows Joey as he touchs the lives of different characters while going through the horror that was World War I. Speaks volumes about how the mere presence of animals brings out our better nature.
– Susan, Driver (Mobile Library Services)
Witch Boy by Molly Knox Ostertag
This is a middle-grade graphic novel (I'd say age 8+) about a boy who lives in a village where the boys are werewolves and the girls are witches... but he knows he's a witch at heart. It's full of friendship, magic, wonder and searching for belonging. There's two sequels as well with are equally enjoyable.
– Ames, Librarian
American Gods by Neil Gaiman
Shadow Moon has just come out of prison when he finds out that his girlfriend has died. He encounters Mr. Wednesday (Odin) on a flight home where he is then recruited to fight a war between the old gods and the new. 
I once joked that Percy Jackson and the Last Olympian is like American Gods for kids, and I also really like Madeline Miller's books on Greek Mythology too: Circe and The Song of Achilles.
– Lucas, Librarian
Charlotte's Web by E.B. White
A gem of a story found in the children's department that feature not one, but two main characters that are non-human: a wise and charming spider, and a terrified pig who is yearning for a friend – and not to wind up on a dinner table! Reading this as a child alleviated much of my fear of spiders as it sparked a curiosity to research them in the non-fiction section of my local library branch. Still remains one of my go-to recommendations for school-age children, but its simple elegance would also do well for adult readers looking for a light read.
– Christie, Branch Head
American Wolf: A True Story of Survival and Obsession in the West by Nate Blakeslee
This book chronicles the re-introduction of 31 wolves into Yellowstone National Park in the mid1990s, through to its publication in 2017. Blakeslee discusses the humans on both sides of the debate: the hunters and farmers who view the wolves as a nuisance, and the conservationists and wolf fans who support these magnificent and intelligent animals. But the star of the book is Oh-Six, the matriarch of the Lamar Valley Pack, who became known as "the million dollar wolf" . Unputdownable.
– Vivien, Senior Branch Head
Mog the Forgetful Cat by Judith Kerr
Sometimes a picture book is the best way to beat a reading slump for readers big and small. Judith Kerr is one of my favourite children's authors and I especially love the character of Mog. Mog's forgetfulness creates all kinds of problems for her family, but when a burglar shows up it is Mog that saves the day.
– Myrna, Librarian
Everyone's a Aliebn When ur a Aliebn Too by Jomny Sun
Sweet outsider jomny is an alien who has been sent to study earth. Over 104 days, jomny meets many friends: an insecure owl, a weary bear, an artistic hedgehog, a camouflaged turtle, a questioning ghost, an egg who wants to be a frog, some lovelorn bees, a tree that feels stuck- even nothingness itself! Through careful observation and a series of lovely, curious conversations, jomny learns a whole lot about what it means to be humabn.
– Jennifer, Librarian
Print Only
Santa Claus: A Biography by Gerry Bowler
Looking for a non-pandemic read that is full of funny, heartfelt nostalgia? Look no further than this pseudo biography about the most famous, loveable, judgmental elf of all time: Santa Claus! An interesting cultural history examining literature, advertising (my favourite), and art, this book is the off-season escape you didn't know you needed. For example did you know that Santa Claus fought on the Union side of the American Civil War? Or that he used to be a beardless youth? Pick up a copy today and delight in history of Father Christmas and ponder his future...
Other Reading Challenge categories:
– Reagan, Librarian
More Recommendations from the TPL Reading Challenge Facebook Group
You don't need a Facebook account to check out the TPL Reading Challenge group. Here are a few of their recommendations:
Need more recommendations? Check out more suggestions here.
Have a favourite book that features a non-human main character? Let us know in the comments below!
June 16: Edit to remove spoiler from review.