Warm Up to Winter with these Cookbooks
I have been wearing socks for weeks and today for the first time this fall I actually wore a proper jacket to work. This can mean only one thing: winter is coming.
Though I hate the cold, it's not all bad news. Winter is often accompanied by savoury soups, hearty stews and steaming cups of cider.
Time to start cooking! These cookbooks can make even the longest, darkest winter days pass more quickly. Meanwhile, you'll have delicious food and your kitchen will smell wonderful.
365 Winter  Warmer Slow Cooker Recipes: Simply Savory and Delicious 3-Ingredient Meals by Suzanne Bonet, Carol Hildebrand and Robert Hildebrand
You'll love winter meal preparation with these 3-ingredient recipes. Just pop everything into the slow cooker and read a good book by the fire while it cooks. 
The Good Food: A Cookbook of Soups, Stews and Pastas by Daniel Halpern and Julie Strand
This cookbook features great meals from international cuisines that are perfect for winter. 
Greenfeast. Autumn, Winter by Nigel Slater
Nigel Slater highlights fall and winter vegetables in this collection of hearty dishes to get us through the cold winter months. It contains a delicious sounding recipe for Beetroot, Blood Orange and Radish Salad.
Please note that this is a vegetarian, but not vegan cookbook.
Home Made Winter by Yvette Van Boven
All I will say about this cookbook is that the photograph on the cover is Cardamom Cake with Pears and White Chocolate and I want some. 
Make it Spicy: More then 50 Recipes that Pack a Punch by Amy Machnak
This one isn't technically a winter cookbook, but what warms a person up more quickly than hot peppers? The recipes here feature hot pepper sauces, peppers and spices. 
The Ski House Cookbook: Warm Winter Dishes for Cold Weather Fun by Tina Anderson and Sarah Pinneo
These winter recipes are designed to give you the energy for winter activities without having to spend all your time cooking. Even if you don't ski, you will appreciate the minimal prep time required. The book uses a ratings system – from easy green dot recipes to the harder black diamonds.
The Soup and Bread Cookbook by Beatrice Ojakangas
Though I know soup exists throughout the year, I only eat it on cold days. Ojakangas was inspired by her Scandinavian roots but also showcases recipes from southern Europe and Asia. 
Stews, Soups and More: Ladle Out 325+ Bowls of Comfort edited by Taste of Home Books
With more than 300 recipes, this cookbook should keep us cooking (and eating) delicious hearty food until winter is over. 
Winter Harvest Cookbook: How to Select and Prepare Fresh Seasonal Produce All Year Long by Lane Morgan
This book demonstrates how to find and use local produce, even in the darkest days of winter. The recipe for spicy chestnut soup is calling out to me.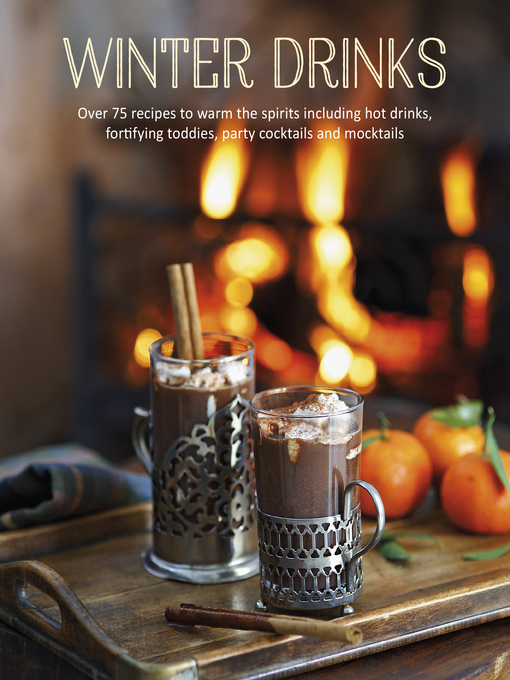 Winter Drinks: Over 75 Recipes to Warm the Spirit including Hot Drinks, Fortifying Toddies, Party Cocktails and Mocktails by Ryland Peters and Small
And what is a winter meal without a drink? This book will help you create tasty beverages to go with these delicious meals. This collection includes cocktails as well as non-alcoholic drinks like Chai and hot chocolate.
---
These recipes should give you some ideas for tasty treats to enjoy all winter long. Which one do you plan on trying first? Or do you have your own secret winter warm up dishes? Let us know in the comments below!