A Book Written by Someone Who is More Famous for Something Else: Picks for the TPL Reading Challenge 2020
Lots of famous people have written books. Some of these books are great! But let's be honest, some of them are downright awful. So we have you covered. Below is a list of  books by people more famous for something else that we have read and loved. Maybe read one for the TPL Reading Challenge 2020?
These recommendations include memoirs, collections of essays, cookbooks and more.
An Astronaut's Guide to Life on Earth by Chris Hadfield
Col. Chris Hadfield is a beloved Canadian icon. The first Canadian astronaut to walk in space, Hadfield has also flown two Space Shuttle missions, and operated the Canadarm. In 2013 he captivated the country as the Commander of the International Space Station, sharing images of the earth and even recording the first music video made in space. In this book he shares extraordinary stories from his life as an astronaut, and shows how he made the impossible possible. 
Is Everyone Hanging out Without Me (And Other Concerns) by Mindy Kaling
Best known for her antics as Kelly Kapoor from The Office, Mindy Kaling is also a writer, producer and comedian. This highly humorous book shares Mindy's very unscientific thoughts on romance, friendship and Hollywood. 
Know My Name by Chanel Miller
Chanel Miller came into the spotlight anonymously after she was sexually assaulted in 2015. Her victim impact statement went viral and was read by millions of people worldwide soon after it was published. She relinquished her anonymity in 2019, and shared her perspectives of the treatment of sexual assault cases and victims in this memoir.
Cravings by Chrissy Teigen
Best known for her social media presence, TV shows, and modelling career, Chrissy Teigen also writes cookbooks! It's filled with recipes that I drool over and aim to make one day.
What I Know for Sure by Oprah Winfrey
Soon before retiring The Oprah Winfrey Show in 2011, Oprah started a magazine called O: The Oprah Magazine. Included in the magazine is a column penned by Oprah herself called, "What I Know for Sure". Her inspiring words are collected in this book of essays. 
More Staff Recommendations
Get Jiro! by Anthony Bourdain
Before becoming a celebrity, Anthony Bourdain was a best-selling author who wrote Kitchen Confidential. Perhaps less well-known are a couple of graphic novels he co-wrote before his dramatic passing. Get Jiro is about a young man's struggle with achieving his dream. Jiro dreams of becoming a sushi chef while being pulled into the family business as a member of Tokyo's most notorious gang. Hungry Ghosts is a re-imagined telling of the 100 Japanese ghost stories revolving around food.
– Christine, Library Assistant
The Reason You Walk by Wab Kinew
Wab Kinew may be best known as the Leader of the Opposition in the Legislative Assembly of Manitoba. But he's also a journalist, musician, activist and author. Upon his father's diagnosis with terminal cancer, Wab decided to spend the next year reconnecting with his father. This book shares their journey to repair their relationship. 
– Despina, Branch Head
Animal, Vegetable, Miracle: A Year of Food Life by Barbara Kingsolver
Barbara Kingsolver is best known for her works of fiction. However, at one point in her life she moved her whole family to the country for a year and decided to live off the land and whatever was within a short radius. This non-fiction title is a mix of information and recipes, and her family also writes excerpts.
– Sephora, Senior Department Head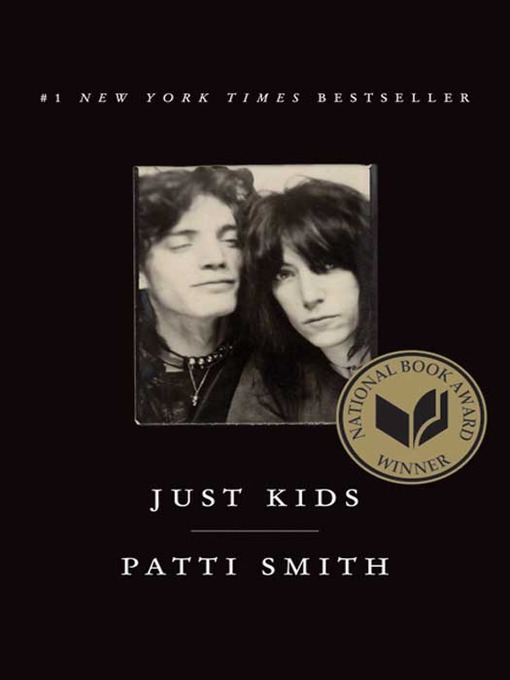 Just Kids by Patti Smith
I don't think you need to be a Patti Smith fan to appreciate this memoir, which covers her early development as an artist and relationship with Robert Mapplethorpe. I found the story of how she found her creative voice and medium (she was originally a visual artist) really inspiring.
– Myrna, Librarian
Writing Gordon Lightfoot: The Man the Music and the World in 1972 by Dave Bidini
This is kind of cheating, as Dave Bidini is a pretty established writer here in Canada. But his first claim to fame was as a member of the Rheostatics so maybe this counts? This book is Bidini's portrait of an amazing moment in Toronto's musical history centering around Mariposa '72, held on the Toronto Islands. It is structured as a one-sided epistolary narrative from Bidini to Gordon Lightfoot, Bidini being a persona non grata to Lightfoot following a past musical slight.
– Thomas, Senior Branch Head
Uncommon Type: Some Stories by Tom Hanks
Who knew the man behind Forrest Gump is a writer in his own right? All stories feature a typewriter since Tom Hanks is a collector and owns over 100!
– Nancy, Public Service Assistant
The Princess Diarist by Carrie Fisher
Best known as Princess Leia from Star Wars, I recommend any of Carrie Fisher's books. She wrote a few!
– Portia, Librarian
Gmorning, Gnight!: Little Pep Talks for Me and You by Lin-Manuel Miranda
Because Hamilton is so trendy right now!
– Margaret, Librarian
Recommendations from the Facebook Group
These are just some of the recommendations from our Facebook TPL Reading Challenge 2020 discussion group.
Do you have other recommendations? Share in the comments below!