A Book That Celebrates Books, Reading or Libraries: Staff Picks for the TPL Reading Challenge 2020
Sure it's indulgent, but I'm not going to lie, "a book that celebrates books, reading or libraries," is one of my all-time favourite Reading Challenge categories (if I could include an animated applause here I would).
There's something kind of special when you are reading and you suddenly realize: "Hey! this book is about me!" Whether you identify with the characters, the plot or the setting, it's comforting to be able to relate to what you are reading. To feel celebrated and maybe even a part of something bigger.
I feel this way every time I read a book about libraries or books in general. I can't help but get a little giddy and start recommending it to anyone who will listen. "Have you read The Library Book by Susan Orleans?" was a question I asked every colleague for weeks. I remain convinced it should be required reading for anyone working in a library. I found myself thinking, "Finally someone is telling the world what I already know: libraries and books rule!"
You can join in the celebration with my friends and me through books like:
What We Talk About When We Talk About Books by Leah Price
The title pretty much sums it up, an obvious pick for this category. It was a really relatable read. Every few paragraphs I would pause on a sentence that spoke to me and read it out loud to my husband, and then type out to my group chat. Leah Price takes us on a journey through the history of books and reading, arguing that despite what people may say, print is not dead, far from it. She also paints a picture of how reading has changed very little, although our attitudes may have changed. Can you imagine, doctors once warned against sustained periods of prolonged reading, arguing it was bad for your health? How about the concept of being prescribed a reading list for what ails you (adorably called bibliotherapy)?
The Girl Who Reads on the Metro by Christine Féret-Fleury (translated from the French by Ros Schwartz)
I know, I know, I keep picking very obvious titles. This is one of my favourite books of the year. It was a light, feel-good happy read. The premise is simple and even a touch whimsical: there is a perfect book out there for each and every one of us, and it is one man's mission, with the help of his "passeurs," he aims to share his books with the people of Paris.  Honestly, this book could also count for: book under 200 pages, book you would like to live in, a book you chose based on the cover/title (that's how I found it, the image stood out to me on a list). It is a very cute book that you can easily get swept up in.
Staff Recommendations
These books were picked by our staff for "a book that celebrates books, reading or libraries."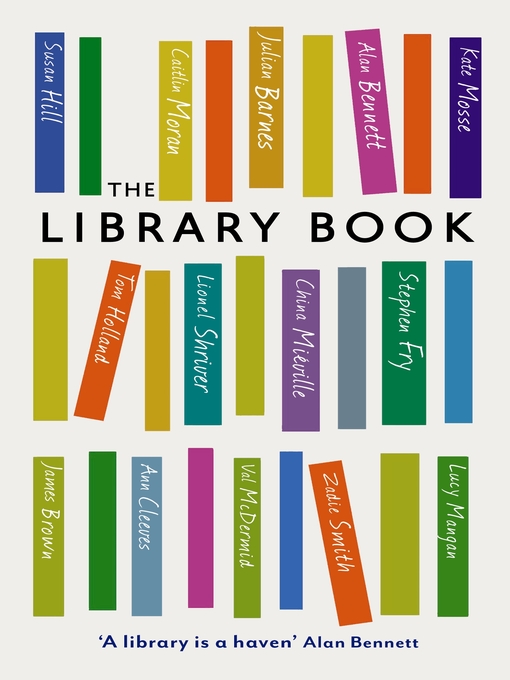 The Library Book by Alan Bennett
– Elsa, Senior Services Specialist
84, Charing Cross Road by Helene Hanff
A lovely book about a correspondence spanning decades between an American book lover and a London second hand book store. RBDigital has unlimited access to the audiobook edition, I really enjoyed the audiobook because it features separate voice actors for all the letter writers. 
– Myrna, Librarian

Palaces for the People by Eric Klinenberg
I'm mid way through, so far it's all about the necessity of public spaces like libraries in building community/resilience/friendship across cultural, age, class and the value of in-person gatherings. Sad to read at this particular moment but reinforces what we already know about our importance in neighbourhoods.
– Margaux, Librarian

Book Love by Debbie Tung
This is the sweetest collection of comics for all the book lovers out there.
– Nalini, Senior Branch Head

The Book Thief by Markus Zusak
Set in Nazi Germany and narrated by Death, this YA novel isn't exactly lighthearted fare, but Liesel's (the titular thief) journey as she learns to read and understand the value of books left a long-lasting impression on me.
– Jennifer, Training Coordinator
The Invisible Library by Genevieve Cogman
For anyone looking for a lighter read, "The Invisible Library" by Genevieve Cogman is tremendously fun. It features librarian spies, alternate worlds categorized by different amounts of chaos and magic, and an emphasis on grammar and language, all wrapped up in a genre-bending detective story with Holmesian influences.
– Chelsea, Librarian
Mr. Penumbra's 24-Hour Bookstore by Robin Sloan
It's a humourous read with a true literary adventure!
– Elsa, Senior Services Specialist
When Books go to War: The Stories that Helped us Win World War II by Molly Guptill Manning
A fascinating non-fiction account of the impact made by librarians who sent free books to soldiers on the front lines during World War II.
– Andrea, Librarian
The Guernsey Literary and Potato Peel Pie Society by Mary Ann Shaffer and Annie Barrows
This book was very enjoyable. An appreciation for books and reading comes through very strongly in this historical novel set in England right after the Second World War.
Only Print Copies Available
This Is Not The End Of The Book by Umberto Eco and Jean-Claude Carrière (Translated from French)
Whether you're a fan of the screenplays, etc. of Carrière, or a lover of the fiction, nonfiction, etc. of Eco, or have never heard of either one of them, this is an engaging conversation about books in all their marvellous forms. Sure, it might sound like two grumpy old men bragging about their personal libraries or complaining about some of the problems with digital media, but I can assure you that all their insights are profound and the tone is essentially optimistic, as the title suggests! WARNING: May contain a surplus of wisdom and witticisms.
– Cameron, Digital Design Technician
Librarians in Crisis Recommendations
In these uncertain times we've created a separate mini-list of recommendations of books about librarians in precarious situations:
Children's Recommendations
All of these books can be read online.
Facebook Recommendations
These are just some of the recommendations from our Facebook TPL Reading Challenge 2020 discussion group.
What did you read for a book that celebrates books, reading or libraries? Do you have other recommendations? Share in the comments below!