A Book You Picked Because You Liked the Cover or Title: Staff Picks for the TPL Reading Challenge
We've been taught to "never judge a book by it's cover". But let's be honest, most of us do. Publishers go to great effort to create covers and titles for books that (ideally!) capture our interest, give a hint to the content of the book and produce the perfect first impression for potential readers.
Originally this category for the TPL Reading Challenge was just "a book you picked because you liked the cover" but we realized this was not accessible for some people with visual impairments so we modified it to include books picked because you liked the title, too.
I'm amazed at all the different ways words, colours, patterns, photos, paintings, font and layout can be used to create something special. These are some of my favourites:
Homegoing by Yaa Gyasi
I had no other option but to look at this cover with the contrasting primary colours. Plus I love this shade of yellow.
A House in the Sky by Amanda Lindhout
The idea of a house in the sky reminds me of something from my childhood imagination. The stark contrast between the gold birds and the dark background also drew me into this book. 
We Have Always Been Here: A Queer Muslim Memoir by Samra Habib
At first glance the cover of this book looked to me to just be a graphic of pretty colours. But after looking at it again, I realized the colours actually depict veiled women. It's cleverly done.
Staff Recommendations
Rabbits for Food by Binnie Kirshenbaum
I just finished reading Rabbits for Food, a novel by Binnie Kirshenbaum. I picked it up because I loved the cover art – a realistic illustration of a rabbit. Rabbits are lovely but they've always creeped me out a bit – I remember how much Watership Down affected me when I read it as a kid. I could sense something both dark and beautiful would come to me from this book, and I was not wrong. Rabbits for Food is a deeply intimate portrait of depression and a woman going through a psychotic breakdown, told in sharp prose that is often very funny.
– Andrea, Librarian
The Little Book of Stress Relief by David Posen
Came across the perfectly "pocket-sized" Firefly edition of The Little Book of Stress Relief at the library last fall during an few impossibly surreal and horribly painful weeks. The pooch on front cover of the 3rd edition bears an uncanny resemblance to Oboe, my four-legged heartbeat of stress relief.  It is one book I was compelled to purchase, and six months later I still randomly open it when I feel overwhelmed. It also happens to be on the Toronto Public Health's list of recommended books.
– Nancy, Public Service Assistant
The Winters by Lisa Gabriele
Any book with red roses on the cover is a draw for me, and I've heard it's not a bad story either!
– Despina, Branch Head
My Year of Rest and Relaxation by Ottessa Moshfegh
I was drawn to My Year of Rest and Relaxation by Ottessa Moshfegh because it featured the painting Portrait of a Young Woman in White on the cover. I find that painting very evocative. You can imagine a whole complex inner life for the subject. Having read the book, I think the cover is a perfect choice even though the book has a contemporary rather than an early modern setting.
– Myrna, Librarian
Long Live the Tribe of Fatherless Girls: A Memoir by Kira Madden
The cover is totally my aesthetic – it sparkles too and I love the colours! This title did end up on a few "best of" lists for 2019, but I would say it is such a hidden gem that it did not get enough attention, it's now been released in paperback as well! I LOVED this memoir.
– Michelle, Communications Officer
When You Ask Me Where I'm Going by Jasmin Kaur
The cover on this is stunning, and deceptive. It looks simple at first glance and then has more going on when you look again.
– Alice, Senior Collections Specialist
Hunting Season by Andrea Camilleri
The cover is just too cute! Bawdy, satirical, and more so if you are attuned to the Italian social structure of the 1800's.
– Marie, Librarian
Tin Man by Sarah Winman
This has a pretty golden sheen to it, but it says it's a tear jerker so I'm having a dilemma. I think it only fair to have a pretty cover if it could be hard to get through.
– Jennifer M., Library Assistant
Belonging: A German Reckons With History and Home by Nora Krug
Tough topic, well-written and fantastically illustrated. It's a great graphic novel. The printed book cover is slightly different than the ebook. I liked the printed cover more.
– Dorota, Services Specialist
The Mermaid and Mrs. Hancock by Imogen Hermes Gowar
The enticing title and attractive blue cover with vines, flowers and a big sea shell caught my eye. It is a magical historical novel set in 1700's England about a man whose quiet life is turned upside down by the discovery of a fascinating object – a mermaid. A tale of obsession, wonder and true love.
– Fiona, Services Specialist
All My Puny Sorrows by Miriam Toews
Since I read music, the music staff on the cover got me intrigued about the subject of the book. Elf and Yoli are siblings. Elf is  a renowned pianist who courts death while Yoli struggles to mend her splintering life. An exquisite novel that grapples with mental illness and the trauma that passes through generations with the hope of life and love weaving through it all.
– Eunice, Librarian
Binti by Nnedi Okarafor
Won the Hugo and Nebula for best Novella! A tense, horrible, and beautiful sci fi story about a girl leaving her home for the first time, only to be caught in the middle of a war. I love this novella!
– Kathryn, Librarian
All the Crooked Saints by Maggie Stiefvater
I don't usually read a lot of YA [Young Adult Fiction], but this one by Maggie Stiefvater caught my eye. Shiver, Linger and Forever have also caught my eye many times on library shelves!
– Suzanne, Services Specialist
In the Hall with the Knife: A Clue Mystery by Diana Peterfreund
I actually hadn't seen the cover of this book when I first put it on hold. I'd just seen the title – and that was enough for me! I'm a huge fan of the old Clue movie, I devoured the Clue books as a child, and I love the board game (I own multiple spin-offs). Never seen the movie? You can watch it online with Kanopy! Campy and ridiculous. I just knew I had to read this book. It's a cute little YA mystery, with a nod to the movie that fans will definitely appreciate. Sequels to come with equally great titles!
– Amy, Communications Officer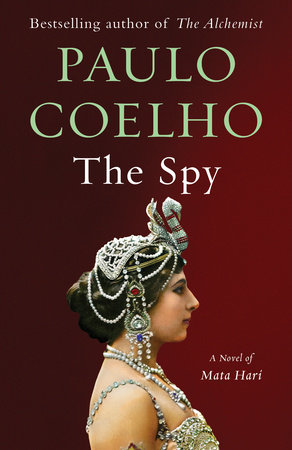 The Spy by Paulo Coelho
This book shares some insights into the life of Mata Hari, who was executed a century ago during World War I by a firing squad for allegedly spying for the Germans.
– Dina, Library Assistant
Hope Never Dies by Andrew Shaffer
This is the second time that I've recommended this book for the TPL Reading Challenge, but again, I've gotta go with Hope Never Dies.
– Melanie, Librarian
Felon by Reginald Dwayne Betts 
I found Felon by Reginald Dwayne Betts through a Time's article on Best Book Covers of 2019 and this cover did not disappoint – not surprising when you find out the jacket design is by an artist (Titus Kaphar) with paintings at MoMA. I'm normally not a poetry fan but Betts' poems pack a massive punch, and he plays with form cleverly with several poems made out of redacted courthouse documents.
– Therese, Librarian
The Bat by Elise Gravel
Always great cover art and titles from Elise Gravel, it was hard to pick a favourite!
– Jennifer B., Librarian
British Library Crime Classics
The covers of British Library Crime Classics hooked me right away. They look like vintage British train travel posters. Many of them are, I think. The mysteries run the gamut. Cozies, locked room, savvy detectives, clever crooks. Haven't been disappointed yet. A real celebration of the Golden Age of British mystery writing.
– Maureen, Library Service Manager
Let's Make Ramen: a Comic Cookbook
Let's Make Ramen! by Hugh Amano is a comic cookbook with recipes that are inconceivable to attempt at home. But the illustrations! Mmm...
– Christine, Library Assistant
The Majesties by Tiffany Tsao
– Elaine, Senior Library Assistant
Circe by Madeline Miller
I picked up Circe by Madeline Miller because of the beautiful golden woman's face on the cover. I love reading historical fiction and imagined the novel being adventurous, bloody and romantic. I wasn't disappointed. This book is beautifully written and puts an interesting spin on Greek mythology. I couldn't put it down!
– Lisa, Library Assistant
The Dutch House by Ann Patchett
I probably would have read it anyway, but the cover of the Dutch House totally convinced me! It has great meaning throughout the book as well.
– Margot, Department Head
If on a Winter Night a Traveler by Italo Calvino
I've always loved this title. The title of this book is also the title of a book the narrator starts to read, but can't finish. He goes on to search for the rest of the story in nine other books in different styles and genres, whose equally evocative titles come together in the end to make a small story of their own. It's also a delightful love story/political satire, and one of the most all-round enjoyable books I've ever read.
– Wendy, Digital Content Lead
Available in Print Only
Your Black Friend and Other Strangers by Ben Passmore
I really enjoyed the colourful and mysterious art style on the cover. Great graphic novel for people interested in understanding anti-Black racism.
– Des'ree, Public Service Assistant
Zipper Mouth by Laurie Weeks
I picked Zippermouth by Laurie Weeks because I thought the cover looked cool! Red is my favourite colour and when I read the blurb it looked like it had queer themes, which is a bonus for me.
– Iris, Page
Creatures by Chrisy Van Meter
I ordered this book for myself because I love how the cover looks. I this it is so beautiful, and the book itself is great too!
– Rosanna, Public Service Assistant
The Other Bennet Sister by Janice Hadlow
I was drawn to the cover design and subject of The Other Bennet Sister: A Novel by Janice Hadlow. I love Pride and Prejudice and this looks like it will be a good read.
– Maureen, Page
Recommendations from the Facebook Group
These are just some of the recommendations from our Facebook TPL Reading Challenge 2020 discussion group.
What are your favourite book titles and book covers? Share in the comments below!