A Book Originally Written in a Language That is Not Your First Language: Picks for the TPL Reading Challenge 2020
In keeping with the theme of encouraging readership, the TPL Reading Challenge 2020 includes a category that really took me out of my reading comfort zone: "A book originally written in a language that is not your first language." It's a bit of a mouthful but it's quite a fun category, it could either refer to a book that was translated or a book in another language. 

I have a secret love of lists, especially visually-appealing colourful ones. Hence my near-constant checking of the New York Times list of newly translated books. When I first found it I was thrilled. More book recommendations! And so many pretty covers. The list also helps with another one of our Challenge categories: "a book you chose because you liked the cover." The New York Times list is regularly updated and so my to-read list just keeps growing. The nice thing about the list is that it presents a wide range of books from all over the world, covering a variety of topics and genres (fiction and non-fiction). The secret little bonus is that the titles are not as well known, meaning you won't be in the triple-digits on the holds list. They also have lists from past years, and I'm not going to lie – I've lost at least a few hours browsing them all and saving the titles that interested me. 
 
The list has opened up a whole new selection of books to me. One book that piqued my interest was Stancje by Wioletta Greg, originally written in Polish. While I am fluent in Polish, it is not my first language. I was a little apprehensive at first – but I had to read a book set in the town my parents were from! Reading Stancje was an interesting experience. I knew it would be a challenge and I looked forward to learning new words. What I did not expect was the amount of mental energy it would take. Tt was not like reading a book in English (my first language) where I could breeze through it. I found myself re-reading sentences many times over – trying to figure out a word I didn't know by using the context, and eventually resorting to looking it up. It was only after I finished reading it in Polish, that the English edition, translated by Jennifer Croft under the title Accommodations, came out.

​To access New York Times
Go to tpl.ca/nytimes and click on the Access Online button. Enter your library card number and PIN.
Select Create Account. Enter a valid email address, create a password, then select Other/Non-Academic under type of user.
You will be issued a pass that will allow you 72 hours of complimentary access. You will get a message that indicates when your pass expires and a link to go to NYTimes.com.
A few more of my picks
Atlas of Poetic Zoology by Emmanuelle Pouydebat (originally in French, translated by Erik Butler)
A beautifully-illustrated book about majestic, sometimes odd, creatures that at times seem too unreal. You'll learn a lot from this one: did you know that certain jellyfish can revert to polyps, effectively aging backwards? If French is your first language, not to worry! The book fits into other Challenge categories because it is under 200 pages and it could be considered experimental, too. 
The Dinner by Herman Koch (translated from Dutch by Sam Garrett)
What starts out innocently enough, two brothers meeting for dinner with their wives, spirals into an awkward debacle of family tensions. The actual dinner itself disappears into the background of the story, the focus being the unraveling of the four adults discussing their teenage sons. Just when things get too tense, a helpful server stops by the table to ask how the meal is going. I couldn't put this book down!
Staff Recommendations
These books were picked by our staff for "a book written in a language that is not your first language".
The Elegance of the Hedgehog by Muriel Barbery (translated by Alison Anderson)
t was originally written in French, titled L'Elegance du herisson. Reading it has made quite an impact on my life.
- Lisa, Library Assistant

Ms Ice Sandwich by Mieko Kawakami (translated from Japanse by Louise Heal Kawai)
This is a lovely coming-of-age story about a young schoolboy that falls in love with a woman who sells sandwiches. By the end, I wanted to scoop him up and give him a big hug! And I'd suggest Convenience Store Woman by Sayaka Murata (translated from Japanese by Ginny Tapley Takemori) as well. It's a quirky story about a woman who works at a convenience store in Tokyo, and her family is desperately trying to get her to grow up and get married and do what is expected of her. Very funny and heartwarming about carving your own path! These two books are so quirky and lovable (they are also short, easy reads that are very accessible).
- Michelle, Communications Officer

Vita Nostra by Marina and Sergey Dyachenko (translated from Russian by Julia Hersey)
Combining metaphysics, dark fantastical elements, and psychological suspense, Vita Nostra is a fresh take on one of the most prolific fantasy genre tropes – the school for magic. Against her will, teenage protagonist Alexandra (Sasha) Samokhina moves to a remote village to enroll in the Institute of Special Technologies. The slightest misstep or failure at school and her loved ones will pay the price. I am in awe of how cleverly the authors constructed a reading experience that mirrored the stages of Sasha's education. Like Sasha, I followed along blindly at first, trying to adapt to a world of oddities and chilling manipulations. I was quickly absorbed by this philosophical coming-of-age story though and it remains one of the most unique reading experiences I've ever had!
- Chelsea, Librarian

The Salvo Montalbano detective series by Andrea Camilleri. Excellent translation from the Italian by Stephen Sartorelli. Read them chronologically.
For some Turkish delight, sample Hotel Bosphorus by Esmahan Aykol (translated by Ruth Whitehouse). The first in the Kati Hirschel series. She's a true pip. Brisk and pragmatic! I'd also recommend Maurice Dekobra's Madonna of the Sleeping Cars (translated from French by Neal Wainwright). An interwar 20th century bit of mittel-Europa intrigue.
- Marie, Librarian
Beartown by Fredrik Backman (translated from Swedish by Neil Smith)
One of my favourite authors is Fredrik Backman who writes in Swedish. His most well-known book is A Man Called Ove, but I highly recommend Beartown. It is about a fictional forest town in Sweden that has its entire focus on playing hockey. When their best hope for glory is shut down because of the courage of one person, their community's values are placed in the spotlight. This is not a hockey story, it is a story about life. It is the story of right and wrong, good and evil. And if you like Beartown, there's a sequel, Us Against You (which is also great!).
- Nalini, Branch Head
The Iraqi Nights by Dunya Mikhail (translated from Arabic by Kareem James Abu-Zeid)
I recently read Dunya Mikhail's lovely poetry book, and am planning on reading Celestial Bodies by Jūkhah Ḥārithī (Arabic, translated by Marilyn Booth) too. There are too many awesome books written in many other languages to list them all, but I am also reading through How to Talk About Books You Haven't Read by Pierre Bayard (French, translated by Jeffrey Mehlman) and might follow it up with Love in Exile by Ayşe Kulin (Turkish, translated by Kenneth Dakan).
- Michael, Librarian
Poetry books from world literature. For example, in the 891 section for works by Rumi, who is quite popular in social media captions. Check out Sufi poetry, Persian--Translations into English.
- Rabia, Librarian
My Brother's Husband, Vol 1 by Gengoroh Tagame (translated from Japanese by Anne Ishii)
These are terrific stories about family, loss and love – and are also a great introduction to manga. Anne Ishii translates. I also really like Yoko Ogawa's books. The Housekeeper and the Professor is a lovely, little book about baseball and math and remembering. I'm excited to read her latest, The Memory Police which has an incredibly spooky premise. Stephen Snyder translates. 
Niels Lyhne by Jens Peter Jacobsen (translated from Danish by Tiina Nunnally)
It's a melancholic telling of a man being transformed by each romantic relationship through different stages of his life. Written in the course of several years, the writing style and tone changes with the main character. It's beautiful and elegant, with gripping passages that left me so entranced I had to take several pauses to sit with the words. Bonus, Jacobsen was an inspiration for Rilke.
- Christine, Library Assistant
The Murmur of Bees by Sofía Segovia (translated from Spanish by Simon Bruni)
My recommended books were all originally written in Spanish. My first two picks are by Mexican authors and for people who like magical realism: The Murmur of Bees by Sofía Segovia (translated by Simon Bruni) and Like Water for Chocolate by Laura Esquivel (translated by Carol and Thomas Christensen). My third pick is a mystery by Spanish writer Carlos Ruiz Zafon, The Shadow of the Wind (translated by Lucia Graves).
- Catherine, Services Specialist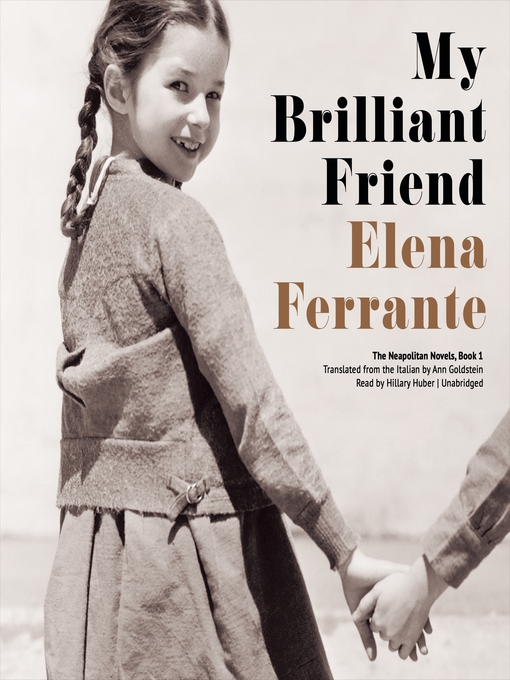 There are so many books to choose from. However, one I recently read and enjoyed is My Brilliant Friend by Elena Ferrante (translated from the Italian by Ann Goldstein). It captures the essence of Neapolitan life perfectly.
- Cynthia, Manager
Lala by Jacek Dehnel (translated from Polish by Antonia Lloyd-Jones)
Not a known author here but a great one. Available at TPL in both Polish and English. It is a beautiful fictional tribute of Dehnel to his grandmother and a historical novel placed before and during WWII.
- Dorota, Services Specialist
The Little Paris Bookshop by Nina George (translated from German by Simon Pare)
Monsieur Jean Purdu takes his literary apothecary on a voyage through the little villages of France, to find out about his lost love. It just makes you want to rent a houseboat and travel these magical waterways!
- Debra, Librarian
Naw Much of a Talker by Pedro Lenz (translated by Donal McLaughlin)
I've mentioned this before because I think it's so cool. A brief story: Pedro Lenz is a Swiss writer who was inspired to write this novel by a 6-month residency in Glasgow where he was enchanted by the Glaswegian people and their dialect. He wrote the book in Bernese German (a Swiss/German dialect) and it was translated into Glaswegian. The dialect, also known as Glasgow patter makes reading this novel challenging. It's a little like reading Chaucer – the words on the page seem alien until you read them out loud. It's a delightful read.
- Margaret, Librarian
Please Look After Mom by Kyŏng-suk Sin (translated from Korean by Chi-Young Kim)
Mom gets lost in Seoul, and the family search for her. It's a reflection on family and regret that will stay with you.
- Joanne, Librarian
Children's
The 2020 Reading Challenge main categories are suitable for readers of all ages, so here are a few recommendations for kids:
Recommendations from the Facebook Group
These are just some of the recommendations from our Facebook TPL Reading Challenge 2020 discussion group.
What did you read for a book originally written in a language that is not your first language? Do you have other recommendations? Share in the comments below!

Want to talk about what you're reading in person or get more recommendations? Come to a Reading Challenge Meetup!