Audio Comics Are Immersive and Accessible!
Whether it's a non-fiction memoir or a classic superhero adventure, comics and graphic novels are a fun and engaging way to experience a story. They are very visual, which can be great for people with certain disabilities and anyone who enjoys an illustrated story. But this also means that comics and graphic novels often aren't accessible to people with other types of disabilities. This is particularly true for those who are blind or have low vision. It's also true for people with some types of learning disabilities, such as certain forms of dyslexia that can make it difficult to decipher the small, handwritten-style text. This is where audio comics come in! 
Just like regular audiobooks, audio comics are a narrated version of the original comic. They are a little more complicated to translate into an audio format because they combine images and text but they are well worth the effort.  Many audio comics are produced with a full cast of voice actors, sound effects and background music so they provide an immersive listening experience. They help make comics more accessible for disabled fans and provide a new experience for longtime comic book readers! And the good news is that TPL has a growing collection of audio comics for you to check out! Here are a few suggestions to get you started:
The Sandman by Neil Gaiman
Neil Gaiman's critically acclaimed graphic novel about the journeys of Lord Morpheus, the Sandman, is now available as a full-cast, radio drama-style audio production. Gaiman himself serves as the story's narrator, and the characters are voiced by a long list of celebrated actors, including James McAvoy, Riz Ahmed, Michael Sheen, and Taron Egerton.
The Adventures of Barry & Joe: Obama and Biden's Bromantic Battle for the Soul of America by Adam Reid
If you weren't already sold on this book by its title, let me add a few more descriptors: time travel, the world's greatest scientists, social justice and an augmented reality version of Samuel L. Jackson. After leaving office, Obama and Biden are sent back in time on an epic quest to right wrongs and make the world a better place. Written and narrated by Adam Reid, this is the cheesy science fiction adventure we didn't know we needed.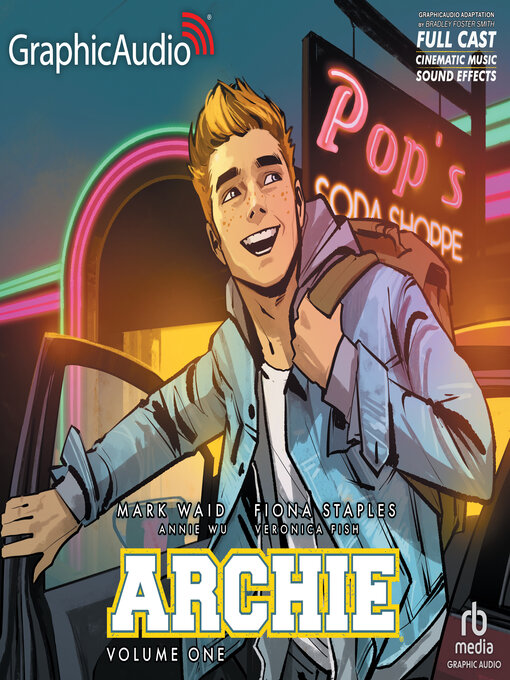 Archie, volume 1 by Mark Waid and Fiona Staples
Rebooted by Waid and Staples, the longest-running comic book series is back with a new, modern spin on the characters you know and love. The audio version provides an immersive experience so you'll feel like you're right there in Riverdale. 
Ms. Marvel Volume 1: No Normal by G. Willow Wilson and Shanta and Adrian Alphona
Being a teenager is hard enough without all the challenges that come from suddenly acquiring superpowers. But that's Kamala Khan's life now. One day she is a fairly ordinary Muslim teen from New Jersey, and the next she's got abilities she didn't ask for. And the daunting legacy that comes along with them.
In-between days : a graphic memoir about living with cancer by Teva Harrison
Teva Harrison's life changed drastically when she was diagnosed with metastatic breast cancer. Not only did she face an uphill battle with her health but she was also forced to re-evaluate her beliefs and goals. A finalist for the 2016 Governor General's Literary Award, Harrison's graphic memoir is a touching insight into the sadness, hope and helplessness that come with a cancer diagnosis.
---
For more audio comics, check out our OverDrive lists for Kids and Teens and Adults.
Please refer to TPL's webpages for more information on Accessible Collections.