Disability Representation in Comics and Graphic Novels
It's March again, and that means it's time for Toronto Comicon. It's the first time the convention will be held since the onset of the Covid-19 pandemic. The shift from virtual events back to in-person events is exciting for many people, but there's a group of comic book nerds that are being left behind. For some people with disabilities, chronic illnesses or other health concerns, it is still not safe to be among crowds of strangers. Without an option to attend the panels and presentations virtually, disabled people are excluded from the fun.
I may not be able to do anything about the pandemic or the changing safety precautions, but I can use my tiny corner of the internet to make sure my fellow disabled nerds know that they are seen. Disabled people read comics. Disabled people are in comics. Disabled people make comics. Here are just a few of TPL's comics and graphic novels that feature disability representation.
Critical Perspectives on Disability Representation
Uncanny bodies : superhero comics and disability edited by José Alaniz and Scott T. Smith
This edited volume is a must-read for any comic book nerd who likes a little analysis alongside their superheroes. The contributors discuss disability representation in comic book characters such as Hawkeye, Moon Knight, Cyborg and Silver Scorpion. You'll also find essays on the "super-crip" trope and the unique creative opportunities that comics open up for disability representation. 
Disfigured : on fairy tales, disability, and making space by Amanda Leduc
Leduc explores the ways that disability is represented in fairy tales. She shows how common tropes influence the ways that society thinks about disability and treats disabled people. Although Leduc focuses on fairy tales, comics follow a lot of the same narrative conventions. They feature grand adventures, heroes and villains, magical elements and often have a moral or message. And they also use the same problematic tropes, especially for villains. Comic books often use significant scarring or limb difference to make a character look monstrous. It's also common for a villain to use an acquired disability as their excuse to commit violence. 
Disabled Superheroes
Let's talk disabled superheroes. There are actually quite a few. Some have been around a long time and are commonly associated with their disability, such as Professor X of the X-Men. Others are well-known characters but aren't typically thought of as disabled, like Bucky Barnes, aka the Winter Soldier, who is a prosthetic user. 
It's important to note that many disabled people have complicated feelings about these characters. While we love seeing strong, powerful disabled characters, they are also some of the most prominent representations of disability in popular culture. This can reinforce some of the extraordinary standards that real-life disabled people are expected to live up to, all in the name of "overcoming" our disabilities. 
With that in mind, here are just a few of the disabled superheroes that TPL has in its collections:
Daredevil: Born Again by Frank Miller 
One of the most famous disabled superheroes, Daredevil first appeared in the 1960s and was popularized by Frank Miller in the 1980s. As a child, Matt Murdock was in an accident that caused blindness but also enhanced his other senses to super-human levels. After growing up and graduating law school, Matt puts on a horned mask and vows to rid his beloved Hell's Kitchen of organized crime.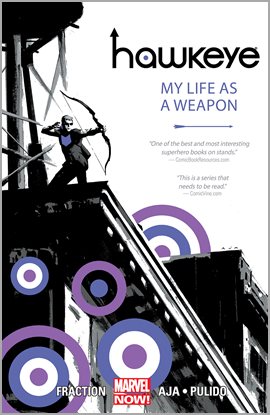 Hawkeye series by Matt Fraction
Clint Barton, aka Hawkeye, is the World's Greatest Marksman and an Avenger. In some comics, Hawkeye is also Deaf. The cause and level of hearing loss differs among the versions of Hawkeye, but the hero is often depicted wearing hearing aids and using sign language. Disney+ incorporated Barton's hearing loss into the recent Hawkeye TV show, which was based on the comics series written by Matt Fraction. The show also introduced another of Marvel's Deaf characters: Echo, a Deaf Indigenous woman, first appeared in the Daredevil comics. In the show, she is also an amputee who uses a prosthetic leg. 
Barbara Gordon (formerly Batgirl)  in The Oracle Code by Marieke Nijkamp
Barbara Gordon, paralyzed by a gunshot, is struggling to adapt to life as a wheelchair user. She moves into the Arkham Center for Independence but things at the Center are not as they seem. Barbara will go to any lengths to uncover the mystery. As a disabled author, Nijkamp brings realism, compassion, and nuance to this new version of Barbara Gordon.
Memoirs and Non-Fiction
Comics and graphic novels aren't just about superheroes and villains. The format also lends itself well to non-fiction books, especially memoirs. 
A quick & easy guide to sex & disability by A. Andrews
Sexual health programs rarely include information about how to ensure that sexual activity is safe and accessible for disabled people. Disabled cartoonist A. Andrews' illustrated guide does an excellent job of beginning to fill in those gaps. This guide debunks myths about disability and sexuality, and includes practical tips and matter-of-fact information. It is a great resource for disabled people and their able-bodied or differently disabled partners.
Dancing after TEN : a graphic memoir by Vivian Chong and Georgia Webber
Toxic Epidermal Necrolysis (TEN) is a rare skin disease. For Chong, it caused blindness. As her vision loss progressed, she documented her experiences in a series of drawings. These drawings became Dancing after TEN, a very personal account of acquiring a disability. Chong worked with cartoonist Georgia Webber, who chronicled her own disability in Dumb. 
Everything is an emergency : an OCD story in words and pictures by Jason Katzenstein
In this graphic memoir, Katzenstein documents his life with Obsessive Compulsive Disorder. He tells of his struggle to balance the demands of everyday life with the rituals and compulsions his brain tells him are necessary. And he shares his experiences seeking treatment and working towards wellness. With humor and honesty, Katzenstein shows that the realities of OCD are so much more than the pop culture stereotypes about order and cleanliness.  
---
Please refer to TPL's webpages for more information on Accessible Collections and curated book lists with disability representation.