Do-It-Yourself Projects for Your Pets
With winter temperatures taking hold and new lockdown measures in place, chances are good that cabin fever is going to set in soon for a lot of people. To cure that boredom, you need a project! And you know what? Your pet needs a project too. I know that sounds silly but it's true. It's easy to forget that our beloved pets are still animals. Their bodies and brains need enrichment just as much as our human ones do. Why not kill two birds with one stone (Errr, that was maybe a bad choice of words!) by tackling a DIY project for your pet? 
Whether you want to make a cat tree, a dog bed, a hamster tunnel or even a hibernation tent for your turtle, we've got lots of great project books to get you started!
Projects for Pets by David Griffin
"Complete plans and instructions for building more than 20 habitats and furnishings for common household pets."
Cat Projects
Engineering for Cats : Better the Life of your Pet with 10 Cat-Approved Projects by Mac Delaney
"Conceived by aerospace engineer Mac Delaney, here are ten ingenious DIY projects that address the quirks of cat behavior head-on, with results that will help both your cat and you to live happily – together – ever after."
Knits for Kitties : 25 Knit Patterns for Making Cat Toys by Sara Elizabeth Kellner
"Provides knitting instructions for twenty-five cat toys, including a miniature teddy bear, jingle balls, and knit lizards."
Catification: Designing a Happy and Stylish Home for your Cat (and you!) by Jackson Galaxy and Kate Benjamin
"Jackson Galaxy, the star of Animal Planet's My Cat from Hell, and Kate Benjamin, of the popular cat design website Hauspanther.com, walk readers through a step-by-step process of designing an attractive home that is also an optimal environment for cats."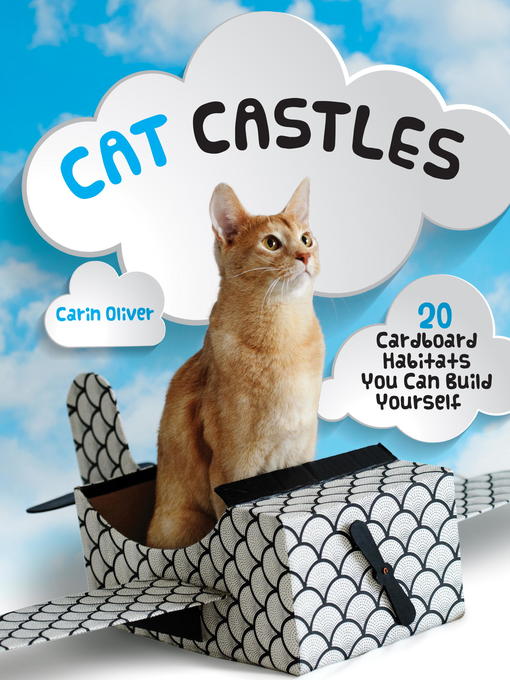 Cat Castles: 20 Cardboard Habitats you can Build Yourself by Carin Oliver
"This DYI construction guide includes fun and easy instructions for making cardboard trains, ships, food trucks, rockets and other hideouts. Also included are tips for climbing towers and scratching pads that they'll use to stay sharp."
And lastly, something for the truly dedicated cat lover...
Crafting with Cat Hair by Kaori Tsutaya and Amy Hirschman (translator)
"Step-by-step, illustrated instructions for creating a variety of handicraft projects from cat fur. Requires no special equipment or training."
Dog Projects
DIY for your Dog: Toys, Treats, and Treasures to Make by Rachelle Blondel
"Suitable for all breeds, from Chihuahuas to Great Danes, these sweet and easy projects are presented in four sections and include everything from a cozy traveling dog bed, a knitted blanket, and a throw-and-catch bone to an adorable neckerchief, a colorful crocheted leash cover, and a made-to-measure coat for gray days. There are even recipes for wholesome and easy-to-make treats..."
The Dog Friendly Home by Ruth Strother
"Instructions and photos for do-it-yourself projects to build for a dog. Includes information on training, safety and grooming."
Fun Accessories to Sew for your Dog by Jisu Lee
"22 pet-friendly DIY projects with step-by-step photos, making each project easy to follow. Fun and functional ideas for leashes, beds, toys, collars, cushions, carrying pouches and more. Advice on stitching, measurement lists, and tips on tools and materials."
Wooly Woofers by Debbie Bliss 
"There's something for pups of all shapes and sizes--and for every occasion--in this collection of 22 whimsical knitwear patterns, all created by design sensation Debbie Bliss. The fun selection includes a classic cabled Aran pullover to keep Fido warm on cold winter days, while the "Sherlock Bones" matching cape and hat will make a bloodhound out of any breed. These are what every well-dressed dog will wear!"
Not to be outdone by the Crafting with Cat Hair book, I present to you the canine equivalent...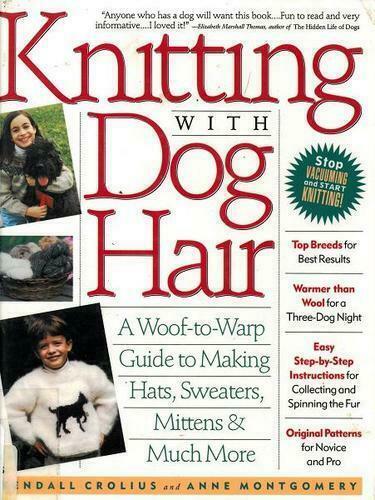 Knitting with Dog Hair by Kendall Crolius and Anne Montgomery
"Learn to recycle Rover into beautiful garments and accessories as the authors teach you this wacky new spin on an old craft."
Rodent Projects
Homemade for Hamsters by Carin Oliver
"20 easy projects for creating toys and exercise equipment for a hamster (and guinea pigs, small rabbits, gerbils, and pet rats and mice, too). The projects use materials and tools commonly found around the home. Treats may also be used and the book includes a list of those that are safe and not safe for a hamster."
Have you made something for your pet? Over the holidays, my mom and I bought some pet-safe sisal rope and built a scratching post for my cat. In true cat fashion, she still prefers whichever arm of my couch doesn't have the post in front of it! It's a work in progress. How did your pets react to the things you made for them?