Seasons Geekings!
It's the holiday season, I've had too much candy cane flavoured tea and I've been given access to a TPL blog. That can only mean one thing: nerdy holiday puns! Brace yourselves folks...
Rudolph the red nosed Romulan!
Merry Sithmas
T'was the night before Christmas and all through Hogwarts not a creature was stirring, not even a house elf...
Ok, that last one isn't really a pun and doesn't rhyme but there are better ones to come, I promise.  And not just puns but actual books and movies and TV shows you can enjoy long after this blog is over. I am a giant nerd and I love the holidays so I present to you a list of nerdy holiday specials in all their cheesy, ridiculous glory!
Walking in a Wookie Wonderland
You cannot talk about nerdy holiday specials without acknowledging the masterpiece that is the Star Wars Holiday Special. Broadcast on TV in 1978, this particular special has taken on legendary status within the Star Wars fandom. Largely because of how laughably terrible it is. It tells the story of Han Solo and Chewbacca as they evade the Empire on their way to Chewie's home planet to celebrate the Wookie holiday, Life Day. But a simple Star Wars-inspired narrative wasn't enough for the creators so the special also includes musical numbers, an animated sequence and a guest appearance by the Golden Girls' own Bea Arthur.
Sadly, we don't not have this magnificent piece of cinematic history in our collection. It was only ever broadcast once and was never released on home video. Although bootleg versions taped by viewers of the original broadcast do occasionally show up on Youtube, the special is not available on DVD or any streaming service. In fact, I think George Lucas has personally smashed as many copies as he could get his hands on.
But there is good news for those of us whose holiday season isn't complete without a trip to a galaxy far, far away. Disney and LEGO have teamed up for another attempt at a Wookie Life Day celebration. Recently released on the Disney+ streaming service, the LEGO Star Wars Holiday Special features the new generation of Star Wars characters, including Rey, Finn and Poe, as they join Chewie for the festive occasion.  
Trek the Halls
Christmas doesn't seem to be a thing in Gene Roddenberry's future. Or at least there aren't any Christmas-themed episodes in the Star Trek series that I've seen (and Google seems to agree with me). There are a few passing references though. One such episode is "Devil's Due" from Star Trek: The Next Generation (Season 4, episode 13). Data is once again using the holodeck to try to learn the nuances of human behaviour and this time he tries out the role of Ebeneezer Scrooge from A Christmas Carol. 
Jingle Bells, Batman Smells
Poor Batman, I'm sure he smells lovely. And probably has very expensive bath products. Besides, Robin has to lay an egg and I suspect that experience is a lot worse than someone implying that you smell bad.
Batman: Noel by Lee Bermejo
Batman isn't the only superhero celebrating the holidays. Whether it's Hanukkah with Huntress or a pagan celebration with John Constantine, the entire DC universe is getting in on the festivities.
A Very DC Rebirth Holiday by Jorge Jiménez and Alejandro Sanchez. And the follow-up comic, A Very DC Rebirth Holiday Sequel.
The Most Wonderful Timelord of the Year
The Doctor Who special has long been a holiday tradition for many people in the United Kingdom. I'm pleased to say that the tradition has spread to nerds around the world. This year, instead of reading a classic Christmas story like The Night Before Christmas, try curling up with the novelization of the 10th Doctor's first Christmas special.
Doctor Who: The Christmas Invasion by Jenny Colgan
For added nerdy holiday ambiance, stream the soundtrack from one of the 11th Doctor's Christmas specials. And, of course, we have copies of the actual Christmas Invasion episode and other Doctor Who Christmas specials.
I Want to Believe...in Santa Claus
"The truth is out there" and if anyone is going to prove the existence of Santa Clause, it's Mulder and Scully. Ok, that's probably not what happens during the X-Files' holiday special but the show always scared me as a kid so someone else will have to watch it to confirm. Do you think Santa will still come if I sleep with all the lights on?
The X-Files, Season 6. Check out episode 6, How the Ghosts Stole Christmas.
Happy Challah-days
There aren't very many Hanukkah specials, and even fewer exist in the nerdy corner of popular culture. The Rugrats showed up on almost every list I found online so I was very excited to learn that we have the original TV series episode and the comic book version available in the library's collection. 
*I know that Friends has a very iconic Hanukkah episode but I don't really think of it as "nerdy." And, honestly, the show irritates me and I'm in charge of this list so the Rugrats win! If you do want to learn about the magic of Ross Geller's Holiday Armadillo, it's the 10th episode of Season 7.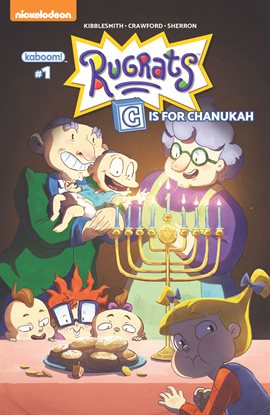 Rugrats, Issue 1: C is for Chanukah by Daniel Kibblesmith. The story is also available in print as part of the Rugrats: Building Blocks anthology and as Season 4, Episode 1 of the television series.
Slay Bells Ring
Things are never easy for Buffy Summers and the Scooby Gang, and Christmas is no exception. The episode entitled "Amends" (Season 3, episode 10) is the only dedicated Christmas special of the series. Nothing says "Joy to the World" or "Peace on Earth" quite like the debut appearance of the First Evil but there still might be a Christmas miracle in store for the Slayer. 
Buffy the Vampire Slayer, Season 3
Holiday Magic
Hogwarts might be magical all year round but there is a special kind of magic that happens on Christmas Day during the first book in the series. Not only is it Harry's first Christmas at the castle but, really, it's his first Christmas ever. For Harry, the day isn't just about a delicious feast and twinkling lights. It's about his friendship with Ron, the sense of belonging he finds at Hogwarts and his optimism for the future. And yes, he receives gifts for the first time but even those aren't really about the material objects. They mark the first time that the people in his life genuinely care for him and see him as a person. That is the true magic of a Hogwarts Christmas.
Harry Potter and the philosopher's stone by J.K. Rowling 
For a truly magical, Hogwarts-inspired holiday, prepare a feast for your household using the Unofficial Harry Potter Cookbook Presents: A Magical Christmas menu. You can also stream the Harry Potter and the Philospher's Stone original motion picture soundtrack, featuring the composition "Hogwarts at Christmas."
Have an Anime-zing Holiday
Christmas is not as prominent in Japanese culture as it is throughout North America and Europe so, understandably, there are significantly fewer anime and manga Christmas specials. I polled a few colleagues and they suggest the film Tokyo Godfathers. Set on Christmas Eve, the film follows three unlikely companions as they care for an abandoned infant. With zany hijinks, tragedies and moments of kindness between strangers, this anime feature fits right in with other cinematic holiday offerings.
There you have it folks, you're all set to spend your holiday downtime curled up with some nerdy holiday classics. Have I missed any important ones? What's your favourite nerdy holiday special? Tell us below in the comments!
Seasons Geekings everyone! And have a nerdy new year!